Welcome to the Community Meeting Rooms
at Walla Walla Regional Airport
45 Terminal Loop, Walla Walla, WA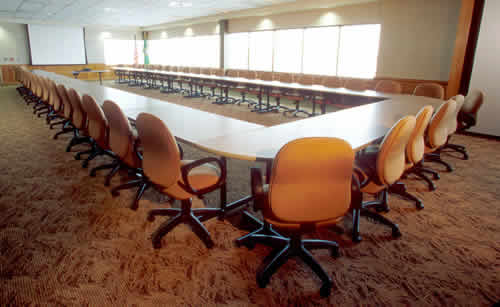 The conference rooms are located in the terminal building at Walla Walla Regional Airport. The community meeting rooms have space and room configurations for meetings of 12 to 138 participants. Reservation Form

Well equipped to make your presentations successful:
Ceiling mounted screen & projector (only in Blue Mountain Room)
Wall mounted white board/tack board panel system
Sound system with cordless hand microphones & lapel microphone (only in Blue Mountain Room)
Easels, Mobile white board/tack board
Freestanding speaker podium
Conference telephone
Reserve your meeting room now...
Pricing is available on the online Reservation Form
Conference Rooms are available during Port of Walla Walla business hours. Monday through Friday, 8:00 a.m. to 5:00 p.m. excluding Holidays.
Chairs and Tables are provided and it is your responsibility to set up the room
Don't know where the Walla Walla Regional Airport Community Meeting Rooms are located? Directions to the Community Meeting Rooms
PocketiNet provides

3 hours

of free Wi-Fi in a 24 hour period. If you need additional time or higher speeds please contact PocketiNet.