High tech testing
firm locates in Port's East Isaacs bldg
Mark Riess heads up a 15-year-old company that he expects will be a major influence in the world of soil testing and environmental monitoring. And he's moved his UNIBEST International business to a Port of Walla Walla owned building to prepare for the future.
Riess is convinced Walla Walla has the resources he needs to expand UNIBEST beyond proven academic applications to growing commercial and even retail needs. According to his web site, Riess' technology "provides reliable data for environmental studies, eliminates problems inherent in current testing methods, agricultural soil testing, and reduces overall costs."
In addition to what he describes as "very helpful" Port support, Riess easily lists other advantages of his new East Isaacs operation.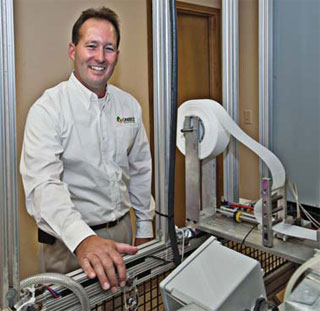 Mark Riess, CEO, UNIBEST
(Photo by Donna Lasater)
"I'm surrounded here by academic and technical support that I can share to be successful. Valuable resources include facultyand students at Walla Walla Community College, Walla Walla University, Whitman College and those at the nearby William A. Grant Water & Environmental Center."
Riess says these institutions offer not only academic support, but students who are a reliable resource for full and part-time staff positions. He expects a payroll of up to 15 people by mid-2011.
It's easy to get caught up in Riess' enthusiasm for his patented process.
"Our technology is being deployed on all continents excluding Antarctica." he says, "from timber farms in Sweden to research facilities in Japan, wineries and vineyards in Washington state, tomato and other vegetable farms in Mexico, potato farms in the Pacific Northwest and rice fields in Vietnam."

Reiss is now enthused about selling his system to the home gardener. He says the Soil Savvy™ kit is crucial for those who want the greenest lawn, the biggest fruit or the most prolific flowers. More info is at www.unibestinc.com